ACÇÕES DIDÁCTICAS PARA MELHORAR AS HABILIDADES COMUNICATIVAS ORAIS NOS ESTUDANTES DO 1º ANO DO CURSO DE PSICOLOGIA DA ESCOLA SUPERIOR PEDAGÓGICA BIÉ
Ricardo Dumbo Lemos Família

Escola Superior Pedagógica do Bié
Resumen
RESUMEN
O presente trabalho tem como objectivo, elaborar as acções didácticas da Língua Portuguesa, para o desenvolvimento de habilidades comunicativas orais e a competência cognitiva, nos estudantes do 1º ano do curso de Psicologia da Escola Superior Pedagógica do Bié. com uma organização sistémica de seus componentes, que concebe o processo de ensino-aprendizagem da Língua Portuguesa como factor interdisciplinar orientada ao desenvolvimento das habilidades comunicativas orais, proporcionando deste modo, uma formação integral do estudante. Os resultados obtidos revelam que há escola do ensino primário, tendo em conta as dificuldades que apresentam os estudantes no domínio de compreensão, análise e construção de textos, para a interacção discursiva nos estudantes da escola em referência.
PALAVRAS-CHAVE: Acções didácticas; habilidades comunicativas; curso de Psicologia.
ABSTRACT
The work of course end approaches the problem of the development of abilities communicative orals and the cognitive competence in the student's of the sixth class of the first cycle of the primary education integral formation, tends in bill the difficulties that introduce the students in the domain of the Portuguese language during the appreciation, the critic and the creation. The objective is expose and give to a group of didactic actions, that she has main platform theoretical the focus cognitive, communicative the new linguistic conceptions are assumed, that it centers his attention in the speech and in the understanding processes and production of meanings in different contexts socials. During the investigation process theoretical and empiric methods were applied, in the determination of the theoretical foundations related with the conceptions about the teaching-learning of the Portuguese language and the characterization of the state actual of the investigated problem, as well as in the drawing of the actions system.
KEYWORDS: Didactic actions; communicative skills; psychology course
REFERENCIAS BIBLIOGRÁFICAS (estilo APA de citas)
ADDINE FERNÁNDEZ, FÁTIMA ET AL: (1999) Didáctica y optimización del proceso de enseñanza-aprendizaje, La Habana, Instituto Pedagógico Latinoamericano y Caribeño (IPLAC). (Material en soporte electrónico, consultado el 25 de abril de)
ADDINE, F., GONZÁLEZ, A. M. Y RECAREY, S. (2002).Principios para la dirección del proceso pedagógico. En: ___Compendio de Pedagogía. La Habana, Cuba: Editorial Pueblo y Educación.
ADDINE, F. (2004). Compilación. Didáctica: teoría y práctica. La Habana, Cuba: Editorial Pueblo y Educación.
AÑORGA J., ET AL. (1995). Glosario de términos de Educación Avanzada. La Habana, Cuba: Universidad de Ciencias Pedagógicas "Enrique José Varona".
AUSUBEL, D. (1982). Psicología educativa. México, Editorial Trillas.
Descargas
La descarga de datos todavía no está disponible.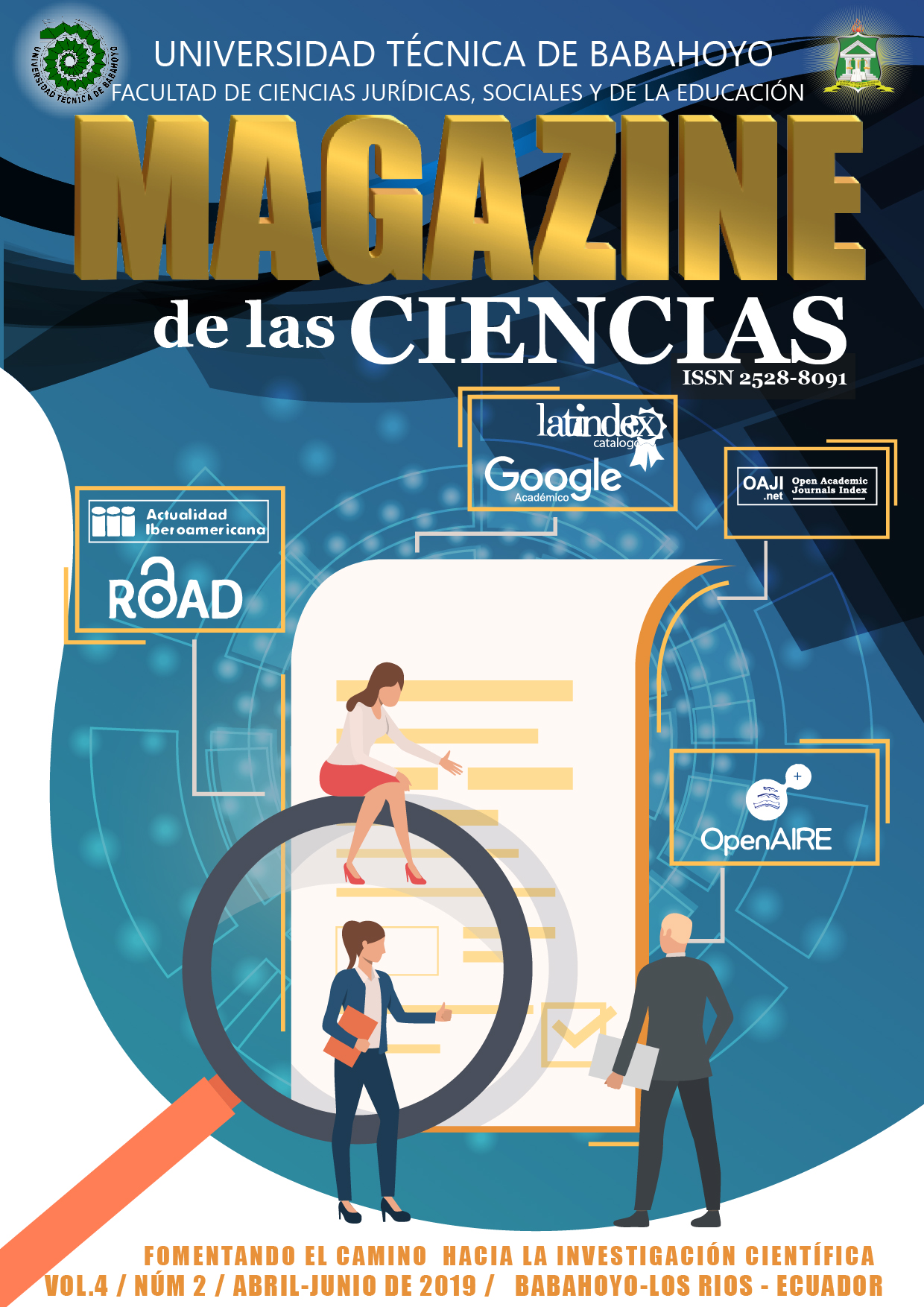 Estadísticas
Resumen 44
PDF 22
Esta obra está bajo licencia internacional
Creative Commons Reconocimiento-NoComercial-CompartirIgual 4.0
.
La revista Magazine de las Ciencias permite que se mantengan los derechos de autoría sobre los artículos sin restricciones, así como los derechos de publicación sin restricciones.